Solve Your Addiction for Good
and Move on with Your Life!
34 Years of Providing the Effective, Proven, Non-12 Step Solution to Addiction
Families Moving Past Addiction Masterclass
Gain a completely new, research-based perspective on addiction and learn how you can best help yourself and your loved one move past these problems for good!
You can leave behind the incessant worrying, the painful tough love tactics, the pleading, and the emotional confrontations with your loved one – as you know, those things don't work! Learn what does work in this exclusive Masterclass brought to you by The Freedom Model for Addiction.
1-Day Addiction Solution for Families
Solve Addiction and heal Family Relationships in just One Day!
For the last 34 years, Freedom Model Co-Authors and renowned addiction experts, Mark Scheeren and Michelle Dunbar, have helped thousands of families with an addicted loved one heal from the pain of living out the addiction struggle dynamic. The Freedom Model Family Workshop is a one-day family-centered relationship workshop led personally by Mark and Michelle. Twice a month, they bring 4 families through the remarkable Freedom Model Family Workshop to learn how to be happier, alleviate anxiety, stress, and fear, and let go of their guilt, shame, pain, and feelings of hopelessness. It's a powerful, logical, effective, and emotionally freeing workshop! 

1-Day Addiction Solution
Find a Permanent Solution in Just One Day!
For the last 34 years, Freedom Model for Addictions Co-Authors and renowned addiction experts, Mark Scheeren and Michelle Dunbar, have helped more than 25,000+ substance users from all over the world learn how to move past their addictions for good. Equally important is the fact that they demonstrate exactly how to do this without 12 step meetings, rehabs, endless "recovery" processes and protocols, and with no limits to what your future hold.
Freedom Model Coaching
One-on-One, Zoom or Skype Private Sessions with a Freedom Model Certified Coach to guide you through the Freedom Model Program
Work through The Freedom Model Program at home, at your pace, and on your schedule with your certified Freedom Model Coach. All sessions are completely private via video conference.  Learning The Freedom Model Program from the privacy of home or office is a powerful and logical step for those who need more help understanding and applying the Freedom Model to their life.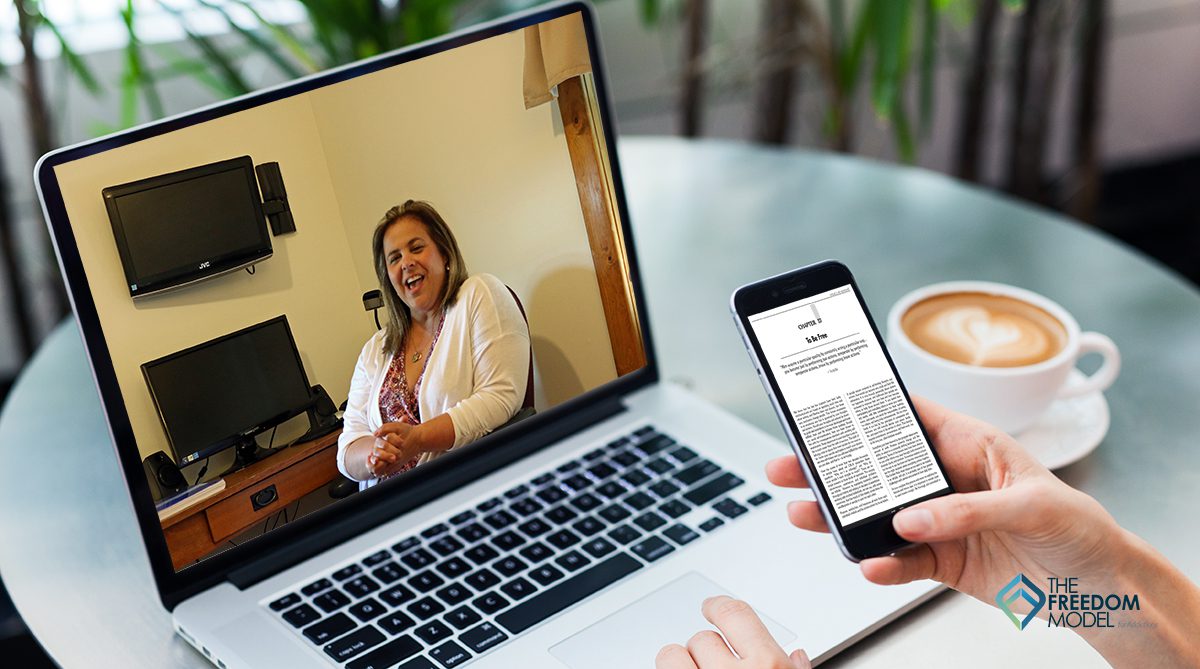 Freedom Model Online Program
Learn The Original Non 12 Step Solution to Addiction from the comfort of your own home without Endless Recovery, Meetings or Rehabs!
You get monthly access to to The Freedom Model's Online Program, consisting of more than 20 Hours of Video classes encompassing 65+ lessons, digital books and audiobooks, plus monthly Live Q&A's, a monthly newsletter, new weekly video lessons, and our Deprogramming Series.  More than 25,000 people (as of 2022) from around the world have gained freedom from the addiction and recovery trap with The Freedom Model's revolutionary non-12 step program.
Freedom Model Books & Audiobooks
Do you want an addiction – a lifelong diagnosis –or do you want to see yourself as having a habit you can solve completely? The answer to that question tells you if The Freedom Model is the answer for you.
The Freedom Model approach with its revolutionary message and extensive research guides you on an empowering path to total FREEDOM without the limitations of treatment and/or recovery.
By dispelling the common addiction myths, you will:
Move Past Addiction Easily
Alcohol and Drugs do not have power over you
Realize Addiction IS NOT a Disease
ADDICTIONS are habits and you have the power to change them
Understand that You Do Not Need Treatment
Treatment Doesn't Work and has worse long term outcomes than doing nothing at all
*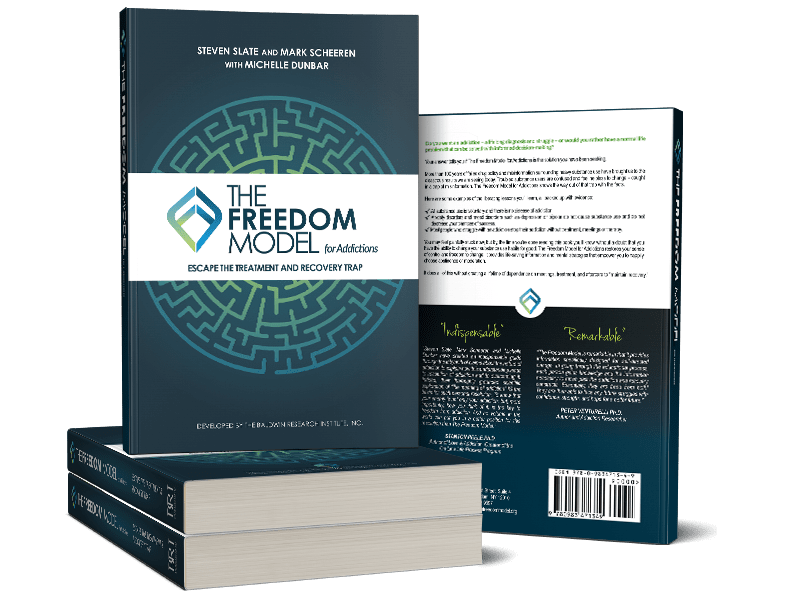 Shake the Very Foundations of Current Addiction Beliefs
Break Free!
Deconstruct the myths and lies behind addiction treatment and the commonly held misinformation surrounding addiction.
The Freedom Model contains all the information needed to reject the limitations of the recovery lifestyle and its "white knuckle" feelings of deprivation, fear and anxiety.
The Freedom Model is the answer millions like you have been waiting for:
No More Support Meetings!
Completely Non-12 Step
No More Degrading Labels!
Never be called an Addict or Alcoholic Again
No More Excuses!
Put the power back where it belongs – within YOU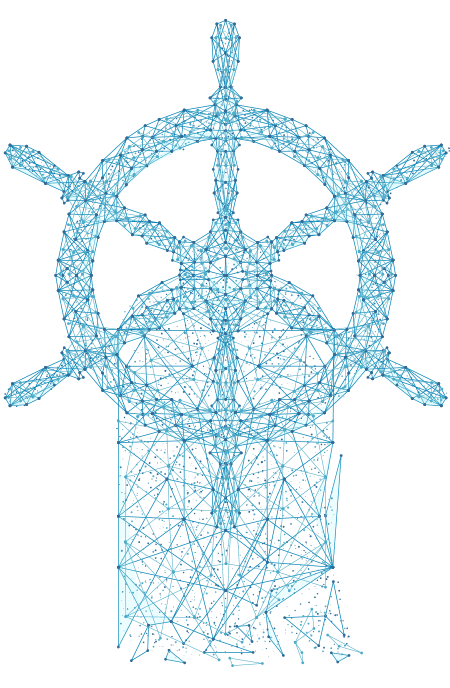 Different in Every Way Possible
We Mean That – Don't Be Controlled Anymore!
The Freedom Model doesn't do anything to you. It's not treatment, medicine, or therapy. It doesn't label you an addict or alcoholic. It doesn't claim you have a disease. Above all, it never takes your freedom away.
The Freedom Model will clear away the difficulty in seeing how efficiently you are able to change your habits – and do so without feeling deprived, anxious, or fearful.
Exposes Treatment!
How Treatment Manipulates Society, our Culture, and even…You
Ends Guilt and Shame!
Stop Guilt, Shame, Resentment, Deprivation, and Cravings Easily…      Yes,  Easily
Helps You Escape the Addiction Trap!
Break Free from the "Relapse and Recovery" Cycle Forever
Designed to Unleash Your Full Potential
So You Can Move on with Your Life; Happy, more Fulfilled, and Free
Developed to provide you with the facts. You'll learn the false beliefs behind the addiction and recovery trap. Once you're provided with the true scientific facts and research, it's very easy for you to recognize your path to total freedom.
The Freedom Model is designed to dramatically transform your thinking, broaden your beliefs beyond your current self-limiting choices, and put you once again at the helm, steering your life forward.
End
Destructive Habits and Counterproductive Decision Making
Expand
Your Life Choices to Meet Your Dreams
Embrace
Your Power of Choice through your Free Will