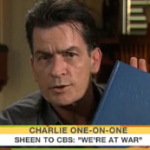 UPDATE 3/7:
It's not just Sheen's comments which indicate Lorre is an AA member.  Comments by CBS execs from a recent story in the New York Times seem to confirm the same thing:
The current conflict escalated after Mr. Sheen began speaking out against Chuck Lorre, the show's creator and a reliable hitmaker for CBS. As he was criticizing Mr. Lorre, Mr. Sheen was railing against the organization Alcoholics Anonymous. The senior executives said the two issues were linked because of Mr. Lorre's long advocacy of A.A.

"There had been stress for quite awhile between Charlie and Chuck," the senior executive said. "The attacks on A.A. were code for Chuck." (Mr. Lorre declined requests for comment.)
Original Story 2/28:
Charlie Sheen made the rounds on the morning shows today with interviews on ABC's Good Morning America, and NBC's The Today Show.  Much was said, in fact far too much to be discussed here.  What was most significant for me though, was when he called out Chuck Lorre as an AA member.
In the Today Show Interview, Charlie pulled out a copy of The Big Book of Alcoholics Anonymous, said that it was Chuck Lorre's "handbook for living" (a clear AA reference), opened it up, read a passage about acceptance, said "accept me Chuck", and then tossed the book on the ground!  Check the video below:
Visit msnbc.com for breaking news, world news, and news about the economy
This is significant because he's basically confirming that Chuck Lorre is in AA.  In a post I wrote on saturday, I had hypothesized that Lorre was an AA member, and that he was abusing his power as Sheen's boss to punish him for leaving and denouncing AA.  The Today Show interview seems to confirm this hypothesis.
Knowing this, and the sequence of events, it becomes clear that Sheen is facing religious discrimination.  AA is a religion, courts have ruled it such, Lorre is upset that Sheen has left their common religion, and he's basically fired him for it.