Brenda Combs was a homeless drug addict for 10 years – now she works, raises a child, teaches, runs a charity, and is on her way to another graduate degree.  Her success in changing can all be summed up with her attitude: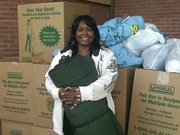 "I am not living my life in recovery," Combs said. "I firmly believe that I recovered."
I've said it before and I'll say it again, stop recovering, and start living.  That's what Brenda did.
She suggests that everyone look at their lives right now and realize that they have the choice to be happy. She has even written a "positive affirmation" that she and her son say every morning.

"I believe in myself and my ability to do my best because I am intelligent, and I am capable of achieving greatness" is one part of the message she and her son follow.

Also, women need to realize that they need to do their best, not society's and others' best. They also need to believe in themselves.

"When you do something to the best of your ability, I think it's going to give you such a great feeling of self-confidence and accomplishment, and celebrate those accomplishments," Combs said.
That's from a recent article.  I also found Brenda's story on the Today Show from a 2007 interview with Hoda Kotb and some other nitwit.  Hoda asks her for advice to tell other people in the position she was once in.  To this, she says she went to a rehab and a halfway house, and then she makes a very deliberate point about what was most important in helping her to change, saying:
But I think for me the most important thing was that I told myself that I did not want to be in 'recovery' for the rest of my life. For me, I needed to 'recover' so that I could move forward.
Right after she says that, the nitwit interviewing her asks "so is telling your story part of your recovery" – completely missing the point she very deliberately made.  Brenda is not "in recovery" so any actions she currently takes are not "part of her recovery".  In her mind, she is recovered, thus in her life, she is recovered.  I don't know whether Ms Combs believes in the disease theory of addiction or not, but I know that she actively rejects a fundamentally harmful underlying concept of the theory – that we should struggle for the rest of our lives with addiction.
So rather than focusing on struggling with her disease, or recovering "one day at a time", or believing that she is powerless – Brenda believes that she is intelligent and capable, and she selfishly pursues being the best that she can be.  Her success is no accident, it isn't luck either – it's the result of strong personal choices to build the life that satisfies her, and only her.  She stopped her problematic behavior, and she moved on with her life.  Take note.
Here's the full article about Brenda Combs:
Meet Brenda Combs: A Former Drug-Addicted Homeless Woman Now Pursuing A Graduate Degree
And here's the video of the Today Show piece on her.  The moment I quoted is at 4:42 into the video